A powered exoskeleton is a wearable mobile machine that allows for limb movement with increased strength and endurance. It is typically powered by a system of electric motors, pneumatics, levers and/or hydraulics.
Depending on the context, a powered exoskeleton can also be known as power armour, cybernetic armour, powered suit, cybernetic suit, exosuit, exoframe, or augmented mobility suit.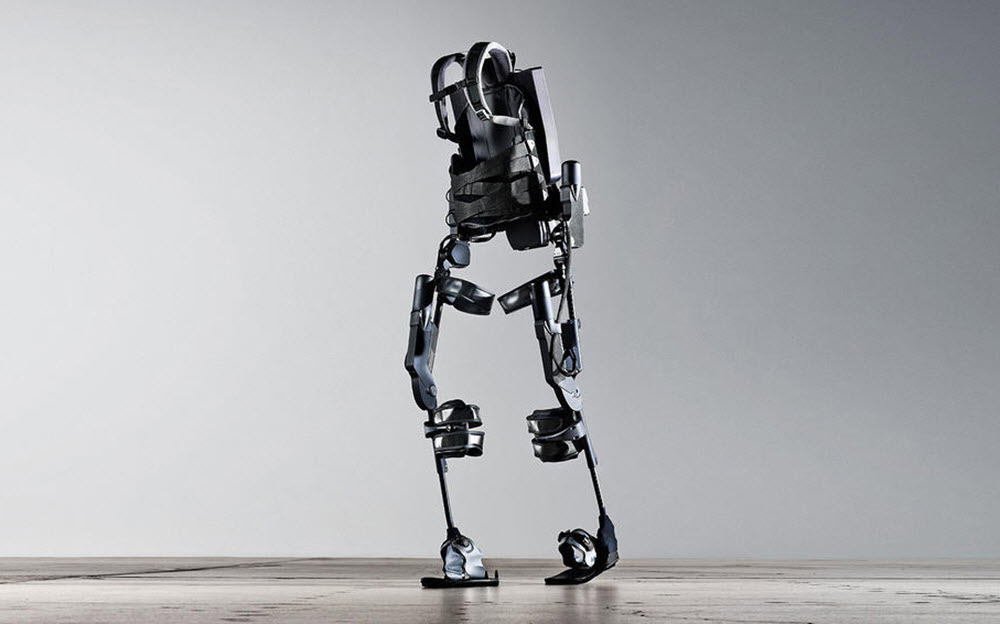 The purpose of a powered exoskeleton vary depending on the exact suit and how it is utilized, but many of the full-suits provide support for the shoulders, back, waist and thigh, while sensing the user´s movements and assisting them by adding force and stability.
An exoskeleton that isn´t powered is known as a passive exoskeleton.
Unlike orthotic devices, a powered exoskeleton will take over a large part of the active muscle work. (An orthotic device is primarily intended to activate the recovery of muscle work.)
Medical use of powered exoskeletons
Many of today´s powered exoskeletons have been developed with medical use in mind, e.g. for users with spinal cord injury or those suffering from mobility problems after a stroke.
A powered exoskeleton can be part of a wider approach to rehabilitation, as it can help the user carry out tasks and exercises that gradually improve the structural and functional properties of the neuromuscular and skeletal system. This is especially true for users where orthosis devices are not enough.
In individuals with complete paraplegia due to an injury above the thoracic vertebra (T12), powered exoskeletons are being explored as a tool to achieve greater mobility.
In individuals that have lost the use of their legs or have some mobility in their legs but are unable to walk, a lower-body powered exoskeleton may help during step rehabilitation, depending on the circumstances of the medical issue.
Use by medical personnel
Powered exoskeletons are being developed to help health care workers move and carry heavy patients.
The German Research Centre for Artificial Intelligence has developed to powered exoskeletons – CAPIO and VI-Bot – which are used for teleoperation. Also, the European Space Agency has developed a series of exoskeletons for teleoperation surgery in space, including EXARM, SAM, and X-Arm-2.
Even when teleoperation from a distance is not required, exoskeletons can help enhance precision during surgery.
Examples of medical powered exoskeletons
HANK from Gogoa Mobility
The powered exoskeleton HANK, developed by the Spanish firm Gogoa Mobility, received CE approval for medical use in 2018. It is approved within the European Union for rehabilitation necessitated by neuro-degenerative disease, spinal cord injury, or acquired brain damage.
Belk from Gogoa Mobility
Belk is a knee-specific powered exoskeleton which received CE approval for medical use in 2020.
Parker Hannifin´s Indego Exoskeleton
This exoskeleton is for the legs and can help spinal cord injury patients and stroke patients walk.
ReWalk
This exoskeleton is intended for users with lower limb disabilities, and features powered hip and knee motion. It can help users achieve self-initiated standing, walking and even walking up and down stairs.
ReStore
ReStore comes from the same manufacturer as ReWalk, but is a more simple system intended for gait retraining. ReStore is attached to one leg.
Ekso Bionics's EskoGT
In combination with crutches or a walker, the hydraulically powered EksoGT exoskeleton can help a paraplegic individual stand and walk. The US FDA has approved it for stroke patients.
Phoenix from SuitX
This exoskeleton is known for being very light and the battery is in a backpack. In trials, it has aided paraplegic users to walk at a pace of up to 1.8 km/h. The Phoenix powered exoskeleton was created based on technology developed for the (now scrapped) Berkeley Lower Extremity Exoskeleton (BLEEX).
Atalante from Wandercraft
While many powered exoskeletons must be used together with crutches or a walker for users with reduced mobility and balance, the Atalante is known for promoting a "hands-free" walk.
HAL exoskeletons from Cyberdyne
The most well-known of the Cyberdyne powered exoskeletons is the HAL-5 full-suit. It is currently used in 130+ medical and nursing facilities throughout Japan.
Honda's Walking Assist Device
As the name implies, this is a partial exoskeleton focused on helping the user to walk.